Profile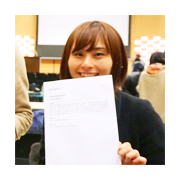 Maho Oki. Ph.D. Post-doctoral fellow at Future University-Hakodate, Hokkaido, Japan. Research Field: HCI, Ubicomp. Interests: Personal fabrication, MAKE. Contact: okimaho :at: acm.org
Publication
Conference Proceedings
Maho Oki and Koji Tsukada, Sparklry: Designing "Sparkle" of Interactive Jewelry, In Proceedings of the Eleventh International Conference on Tangible, Embedded, and Embodied Interaction (TEI '17), pp.647-651. (Mar,10 2017)Maho Oki and Koji Tsukada, Sparklry: Designing "Sparkle" of Interactive Jewelry, In Proceedings of the Eleventh International Conference on Tangible, Embedded, and Embodied Interaction (TEI '17), pp.647-651. (Mar, 2017)
Koji Tsukada, Maho Oki, Takafumi Yamamoto, Tomohiro Imaizumi, CARduino: Device toolkit suitable for use in automobiles, In Proceedings of the 2015 ACM International Joint Conference on Pervasive and Ubiquitous Computing: Adjunct Publication (UbiComp '15 Adjunct), pp.407-410, Sep, 2015. [PDF]
Maho Oki, Koji Tsukada, Kazuhiro Kimura, Satoshi Nakamatsu, FingerPhone: Smart interphone integrated with a fingerprint sensor, In Proceedings of the 2015 ACM International Joint Conference on Pervasive and Ubiquitous Computing: Adjunct Publication (UbiComp '15 Adjunct), pp.277-280, Sep, 2015. [PDF]
Koji Tsukada, Keita Watanabe, Daisuke Akatsuka, and Maho Oki, FabNavi: Support system to assemblephysical objects using visual instructions, Paper presented at Fab10, Barcelona, 2-8 July(2014 ).[PDF]
Maho Oki, Koji Tsukada, and Itiro Siio. AugmentedBacklight: expansion of LCD backlights using lighting methods in the real world. In Proceedings of the 15th international conference on Human-Computer Interaction: users and contexts of use - Volume Part III (HCI'13), pp.209-216(Aug, 2013). [PDF]
Maho Oki , Koji Tsukada, Kazutaka Kurihara, Itiro Siio: HomeOrgel: Interactive music box to present actual home activities, Proceedings of APCHI 2012, pp.177-186 (Aug, 2012) [PDF]
Maho Oki , Koji Tsukada, Kazutaka Kurihara, Itiro Siio: HomeOrgel: Interactive music box to present actual home activities with symbolic sounds, Adjunct Proceedings of Pervasive2012 (Demo), (Jun, 2012)[PDF]
Maho Oki, Koji Tsukada and Itiro Siio: MediAlarm: alarm-type interface integrating various media, Adjunct Proceedings of Pervasive 2010 (Demo), pp.29-32 (May, 2010) [PDF]
Koji Tsukada and Maho Oki: EyeCatcher: a digital camera for capturing a variety of natural looking facial expressions in daily snapshots,Proceedings of Pervasive2010, Springer LNCS, pp. 112-129 (May, 2010) [PDF]
Koji Tsukada and Maho Oki, ChameleonBall, Proceedings of 4th International Conference on Tangible, Embedded, and Embodied Interaction (TEI 2010), pp. 387-388 (2010) [PDF]
Maho Oki, Koji Tsukada, Kazutaka Kurihara, and Itiro Siio, HomeOrgel: Interactive music box for aural representation, Adjunct Proceedings of Ubicomp 2008, pp. 45-46, (Sept, 2008). [PDF]
Magazine
Hyosun Kwon, Holger Schnädelbach, Boriana Koleva, Steve Benford, Tom Schofield, Guy Schofield, Maho Oki, Koji Tsukada, Daniel Harrison, Richard Banks, Tim Regan, and Martin Grayson. 2017. Demo hour. interactions 24, 5 (August 2017), 8-11. [OtherPage]
---- Maho Oki and Koji Tsukada, "Sparklry: Designing "Sparkle" of Interactive Jewelry"
Workshop
Future University Hakodate (Koji Tsukada, Maho Oki and Kazuma Takada), Documentation tools for Fab Lab activities, The 5th Annual Fab lab Asia Network Conference, 2019-05-08, [OtherPage]
FabNavi: Assemble physical objects using visual instructions, World Maker Faire New York,  Exhibition, 2015 2015/9/26-27 [OtherPage]
Fabcafe x FabNavi Present _ DIWO FURNITURE SERIES, fabface Taipei, workshop, 2014/03/19-20.[OtherPage]
FabNavi, Exhibition,  Mozilla Festival in London, 2013/10/24-26.
Recent Activity