HomeOrgel
: Interactive music box for aural representation of home activities
We propose a music-box-type interface,"HomeOrgel", that can express various activities in the home with sound. Users can also control the volume and contents using the usual methods for controlling a music box: opening the cover and winding a spring. Users can hear the sounds of past home activities, such as cooking in the kitchen and opening/closing doors, with the background music (BGM) mechanism of the music box.
DemoVideo
Prototype
The HomeOrgel device is implemented in a magnetic sensor to play/stop BGM, an acceleration sensor to control volume, a rotary sensor to play sounds of past activities. We controll these sensors using PhidgetServer.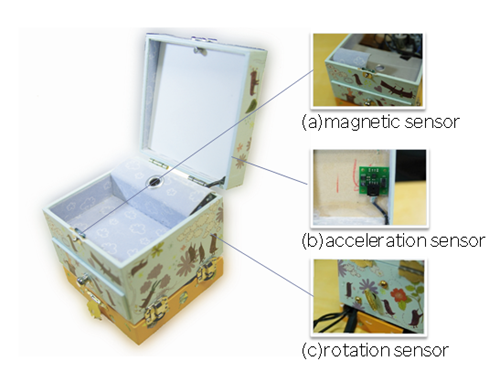 Figure 1: HomeOrgel device and embedded sensors.
Installing HomeOrgel in a real house(2009-2010)
We installed the HomeOrgel in our ubiquitous home "Ocha House" and evaluated this system.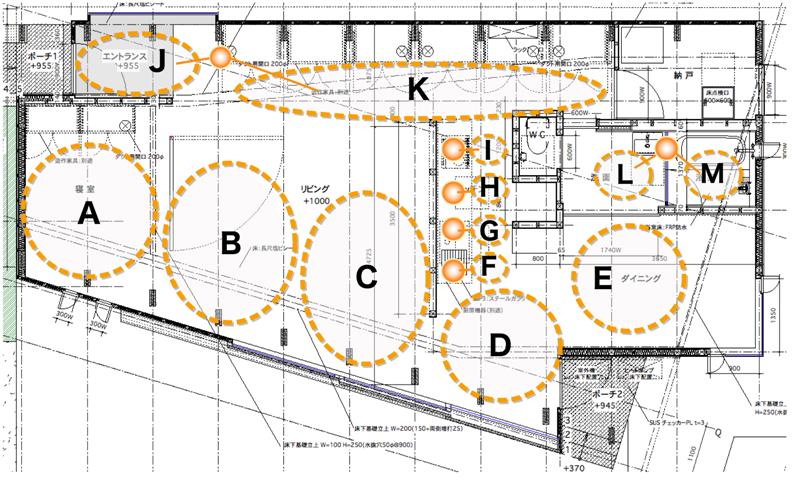 Figure 3: Detectable areas using motion sensors.A: Bedroom, B-C: Living room, D-E: Dining room, F: Kitchen(front of stoves), G-H: Kitchen(front of cutting table), I: Kitchen(front of a sink), J: Entrance, K:Passage, L: Changing room, M: Bathroom
We embedded some sensor modules in the room of OchaHouse. The module consists of XBee (wireless communication module) and an optional sensor(Figure2). We selected a motion sensor (Panasonic Electric Works Co., MP Motion Sensor NaPiOn) to detect human motions in view of ease of installing this time.
This system decides an activity of people on a their position using installed sensor modules(Figure3). The HomeOrgel generates symbolic life sound depending on activities. For example, the HomeOrgel plays the sound of cutting vegetables rhythmically when he stands in the kitchen, and the sound of chime when he is at an entrance.
Related publication
Maho Oki , Koji Tsukada, Kazutaka Kurihara, Itiro Siio: HomeOrgel: Interactive music box to present actual home activities, Proceedings of APCHI 2012, pp.177-186 (Aug, 2012) [PDF]
Maho Oki , Koji Tsukada, Kazutaka Kurihara, Itiro Siio: HomeOrgel: Interactive music box to present actual home activities with symbolic sounds, Adjunct Proceedings of Pervasive2012 (Demo), (Jun, 2012) [PDF]
Maho Oki, Koji Tsukada, Kazutaka Kurihara, and Itiro Siio, HomeOrgel: Interactive music box for aural representation, Adjunct Proceedings of Ubicomp 2008(Demo), pp. 45-46, (Sept, 2008). [PDF]